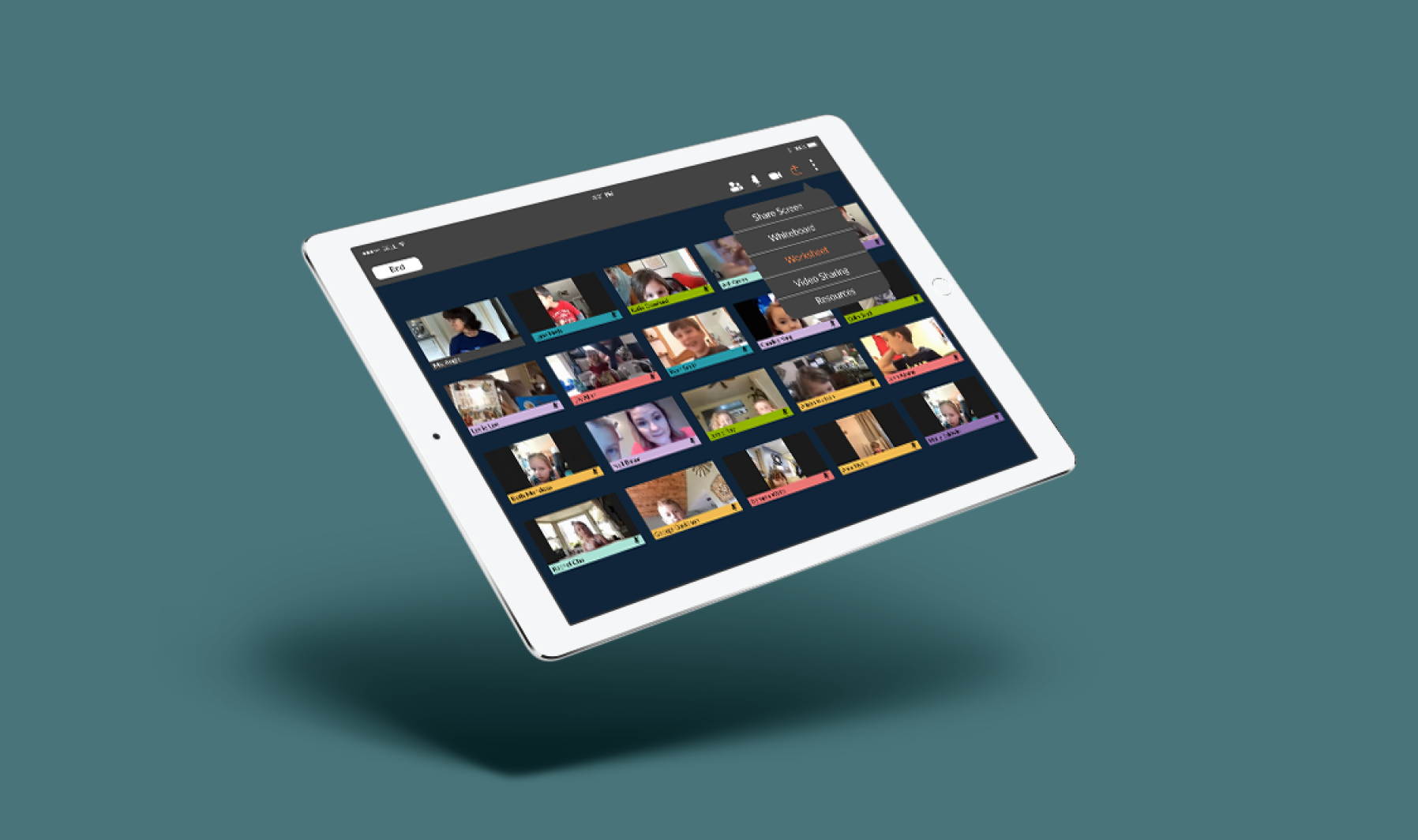 This project has aimed to redesign the interface of Zoom for a primary school age group in order to solve the most fundamental problems faced by them during this time. The outbreak of COVID-19 forced millions of students world wide to leave the traditional classroom setting and attend online class from home. While there are other platforms Zoom is the most popular one being used worldwide due to its appropriate functionality and ease of use.
While staying at home has certain benefits, such as an added level of comfort, it's not usually a student's or a teacher's first choice. It's been observed that young children face the greatest challenges while learning remotely as it hinders development of social skills and makes it difficult to stay focused. 
Project Partner: Suditi Shah
PROBLEMS BEING FOCUSED ON

​​​​​​​
 1. Difficulty in joining a meeting without a parent/guardian.
 2. Lack of focus among students caused by gallery view. 
3. Unintuitive communication methods between student and teacher. 
4. Parent's are unable to view child progress.
1. Difficulty to track the progress of a student throughout the semester. ​​​​​​​
 2. Unable to ensure students are completing work during class. 
3. Time lag when sharing video. 
4. Breakout room group discussions are difficult to conduct.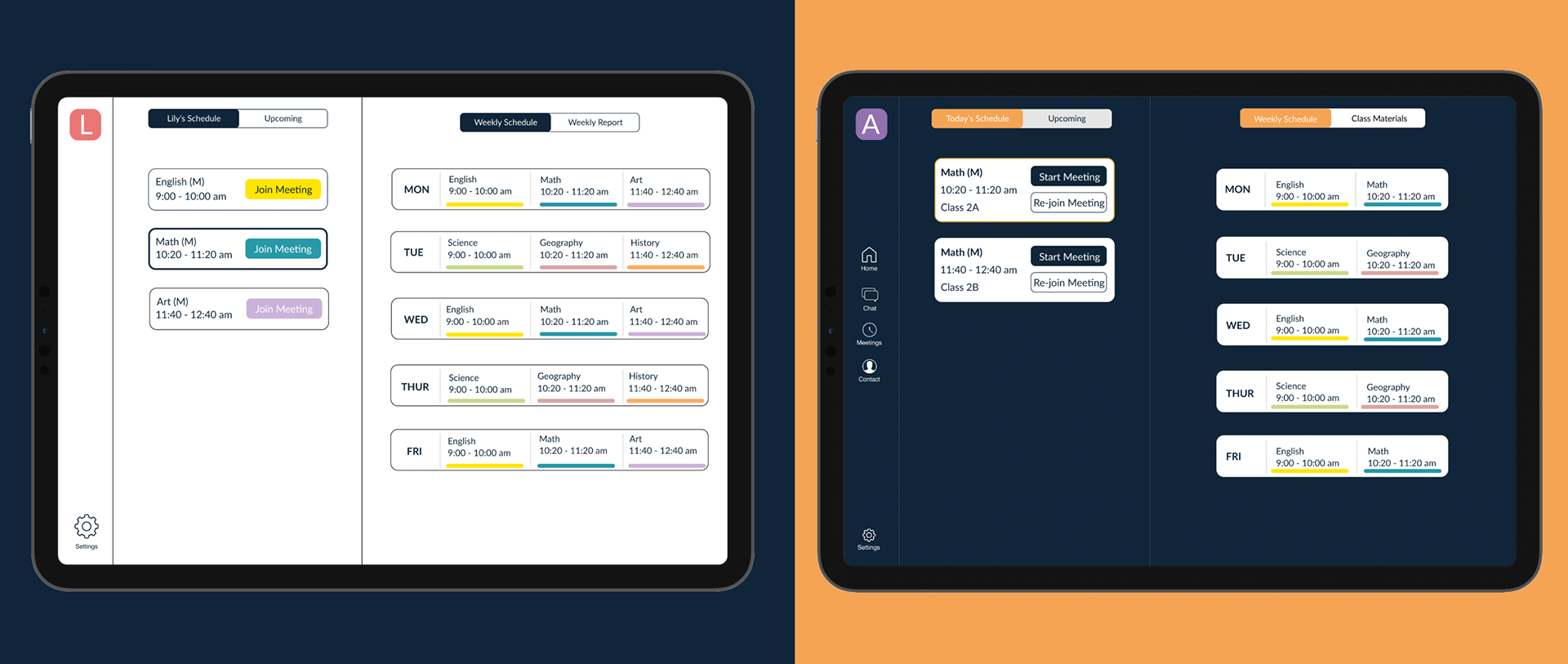 Problem:
Students have a difficulty in joining meetings without a parent or guardian. 
Solution:
When they open Zoom+ they are presented with their weekly timetable and are automatically prompted to join their upcoming meeting.
Teachers too are prompted to start meetings based on their schedule for the day.
2. FOCUS AND COMMUNICATION
Problem:
Lack of focus among students. 
Solution:
Students view the teacher on a larger screen and have three peers by their side as a default view, as Gallery view can be overwhelming and distracting. 
Solution:
Sending check-ins throughout the duration of the class, to ensure students are sitting and working diligently in front of their screens, and not wandering off.​​​​​​​
Teachers can send positive reactions to the class in order to keep them engaged and reward their hard work.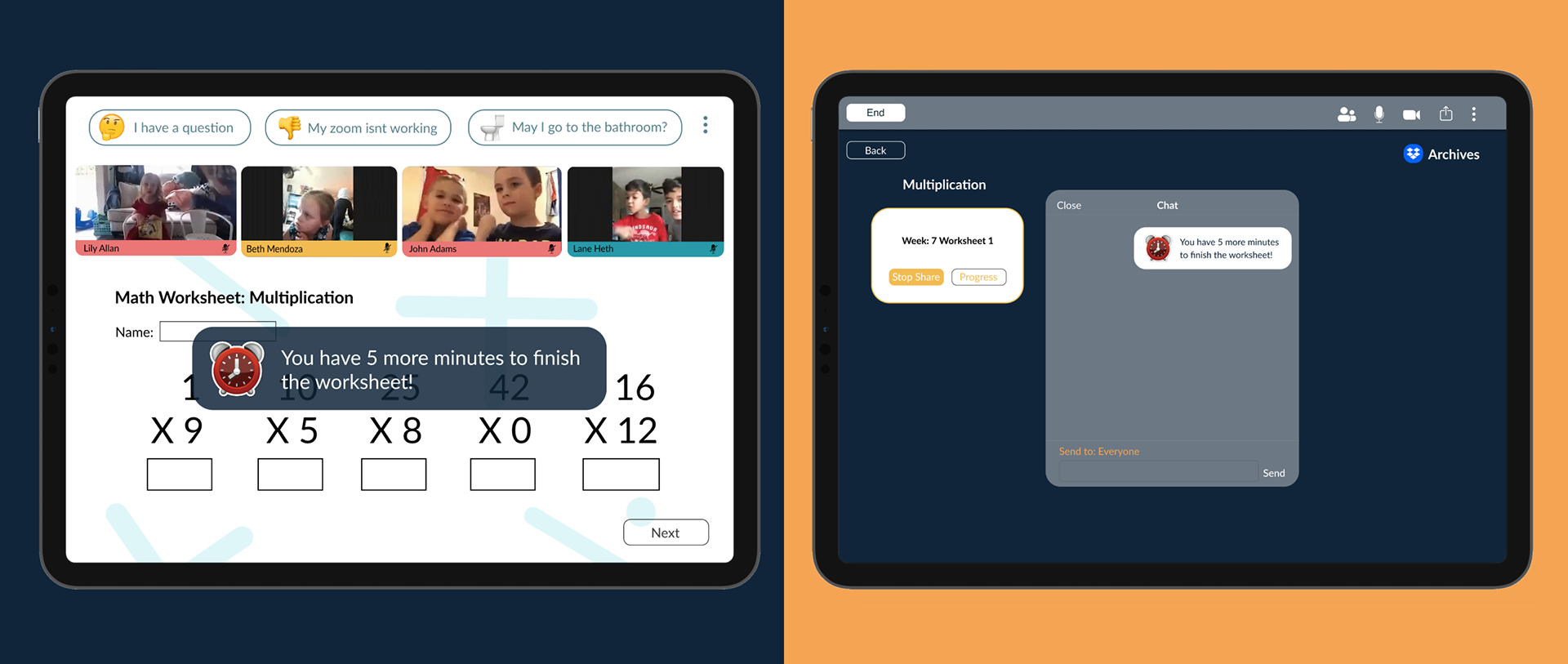 Problem:
Unintuitive communication methods between student and teacher. 
Solution:
Students have been provided with buttons on top to get the teacher's attention or communicate a message.
Teachers can use the chat feature on their end to provide one sided instructions to students.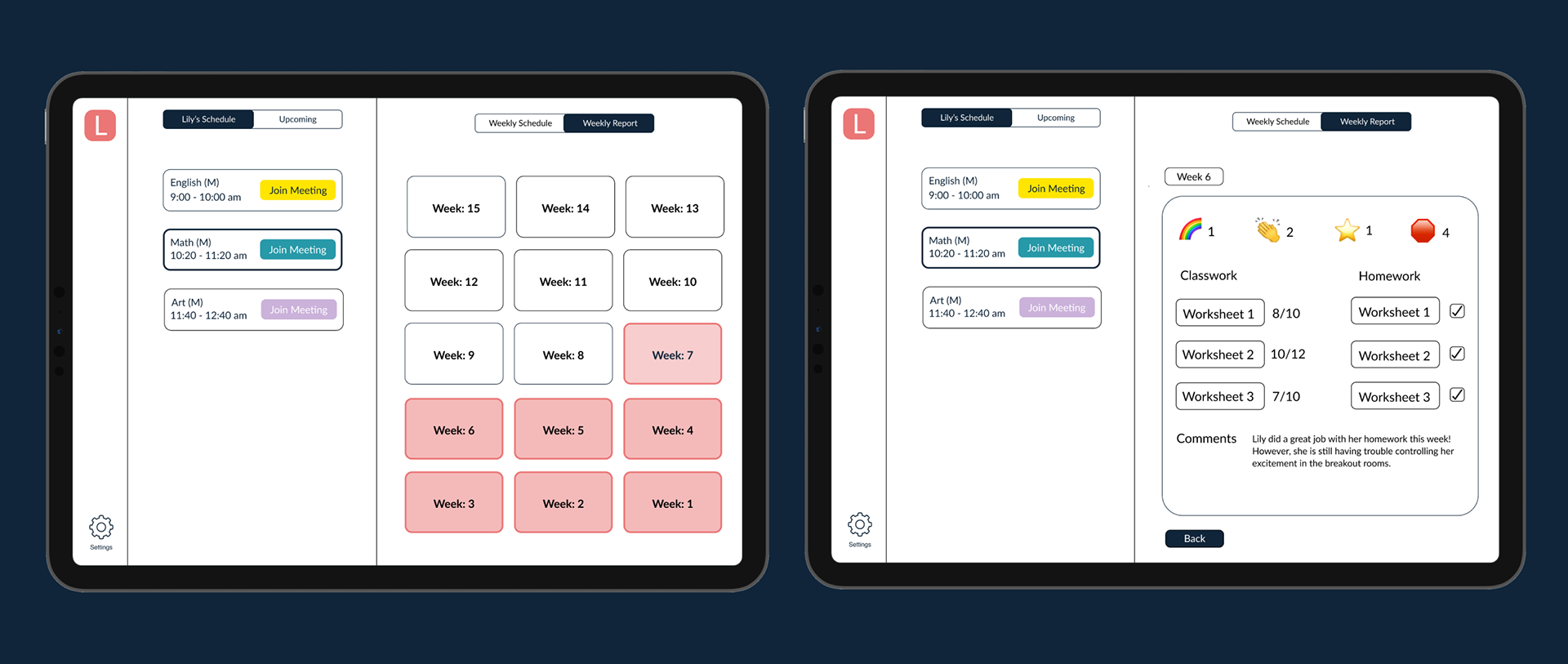 Problem:
Parents unable to view their child's progress. 
Solution:
A feature that allows teachers to track their students weekly progress (worksheet grades, affirmations and incomplete assignments) that the parents can access.
Progress can be viewed for each week of the semester.
Teacher is able to access the class roster via Zoom+.
Teacher can click into a student name and give each student individual feedback on a weekly basis.

Problem:
Teacher's are unable to ensure students are completing work during class. 
Solution:
Share screen feature allows sharing of interactive worksheets that students can work on individually.
Worksheet is displayed on the student's screen and the teacher is able to view individual child progress on the worksheet.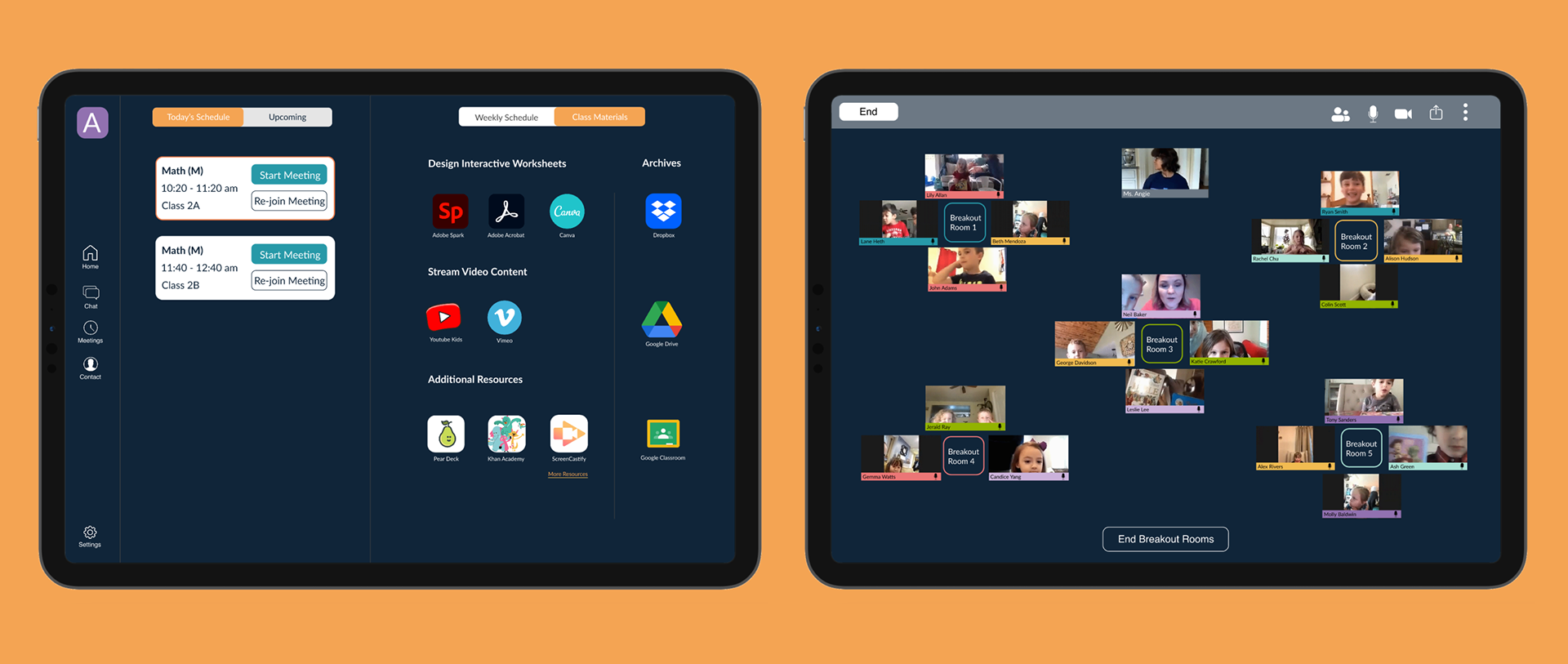 Problem:
Time lag when sharing video. 
Solution:
Teachers have access to external applications wherein they can upload and share videos so as there is no screen lag. For example, if the teacher shares a video via Youtube, the same application opens up on the student screen, this would prevent the video time lag commonly faced on Zoom.
Problem:
Break out rooms are difficult to conduct. 
Solution:
Once the teacher assigns the students into break rooms, they would be able to view the groups on screen (without sound). They can then decide to enter any room they wish to. Additionally, it would be recommended that each breakout room discussion be facilitated by a parent volunteer so as to ensure students are paying attention and understanding.
TEACHER | STUDENT VIEW CLICKTHROUGH